President: Larry Warrenfeltz

Secretary/Treasurer: Pat O'Brien
Source: Aerograph February 2020
The Pensacola Chapter had their December meeting/Christmas Party at the home of Ed and Patti Straten. Those in attendance included Nancy and Larry Warrenfeltz, Pat and Libby O'Brien, Ken and Barbara Overholt, Rose and Arthur Frazier, Paul and Cheryl Belt , Al and Helen Atwell, and Marion Hawks. See attached party pics below. At the business end of the party Larry and Pat volunteered to remain on as President and Sec/Treasurer respectively for the year 2020.
Nancy and Larry Warrenfeltz
greatly enjoyed the 2019 college football season. Navy beat Army and Air Force to win the Commander in Chief's trophy. The Midshipmen beat Kansas State in the Liberty Bowl and finished the season tying the school record at 11-2. Locally, the University of West Florida Argonauts won the NCAA D-II National Championship! I

n the program's fourth year of existence, the Argos' path to the championship put them on the road for five straight weeks. They upset four undefeated teams to take the title. Nancy and Larry are pictured here with the UWF Mascot.
Now Larry's attention is focused on the softball field. He is the Umpire-in-Chief for high school softball in Florida. That means there is a whole lot of umpire training to accomplish before the season begins. Now Larry's attention is focused on the softball field. He is the Umpire-in-Chief for high school softball in Florida. That means there is a whole lot of umpire training to accomplish before the season begins.
Pat and Libby O'Brien celebrated their 25th wedding anniversary on Christmas Day and left the following day for a 10-day southern Caribbean Cruise. Pat's last southern Caribbean Cruise was via the U.S. Navy in 1981, and he says this one was nothing like it. He and Libby spent most of their time relaxing. Pat did go to the gym one time. He says he didn't want to overdo the exercise thing because at his age exercise is too much like work. They continue to play golf, and Libby talked Pat into going to Augusta to play in a tournament. Pat was not all that excited about the venture, but as things go, sometimes they work out. They ended up winners of their flights and won a number of prizes. They are now labeled sandbaggers. All their news is not good. Libby lost her younger brother, Bill, to cancer in early November.
Rose and Arthur Frazier had a very busy Christmas season as Santa and Mrs. Claus, so they spent a quiet holiday at home with their son. Then they went on a 5- day cruise with 12 others to celebrate the New Year at sea! Many dressed in the style of the Roaring 20's that evening! (see photo below). January they are packing up their house and moving to a 55+ community in Ocala to be closer to son and most of Rose's family. They are looking forward to some real retirement activities and more travel after their son graduates from college (F.I.T.) in May

Denny and Helen Maljevac were visited by their son Mike and his family over the Thanksgiving holiday weekend. Denny and Mike decided that one way to spend some time together would be to get in a workout at the local gym. Denny is a regular there so he thought he could "smoke" Mike during their workout. What a joke that turned out to be. Mike "dropped the hammer" and showed his dad how it's done. Turns out that Mike works out at the gym onboard Mayport Naval Base where his civil service job includes conducting hazmat inspections onboard homeported and transient ships. It was all in good fun and the "old man" enjoyed eating a piece of humble pie. It was a great way for father and son to spend some time together over that family holiday. Mike jokingly said that the event will now go down in family history as "Black Friday".
Ed and Patti Straten returned from their Med cruise to Italy, France, and Spain where they celebrated Ed's milestone 70th birthday! They took in all the sights! In Rome they toured The Vatican, Colosseum, Forum, Palatine Hill and Trevi Fountain. They cruised to Pisa, Portofino, Nice, Monaco, Provence, Sete, Valencia, Palma de Mallorca and Barcelona. They roamed these beautiful cities, the magnificent cathedrals, (actually saw the Holy Grail!), the little cafes, ate pizza and drank wine, breathed in the sight and sound of a different world and literally enjoyed Planes, Trains, Automobiles and a luxurious Cruise Ship. Fabulous! Life is Good!

In December, they hosted the annual NWSA Pensacola Chapter annual meeting and Christmas Party. A great time was had by all!
In January they saw a really great show with Peter Noone of Herman's Hermits. Who remembers Mrs. Brown, You've Got a Lovely Daughter?
They are looking forward to their next cruise to Sydney, New Zealand, Tahiti, Bora Bora, Lahina and Honolulu. How could they possibly leave Hawaii at the end of the cruise? So… they decided to stay at the fantastic military hotel, The Hale Koa, for a week before traveling to Las Vegas on their way back to Pensacola. The trip will be a fabulous 33 days total! Aloha!
Submitted by Pat O'Brien, Sec./Treas.
---
Source: Aerograph November 2019
The Pensacola Chapter held its fall meeting at Wolf Bay Lodge on
Friday the 13th
of September. The following individuals were in attendance:
Larry and Nancy Warrenfeltz
,
Pat and Libby O'Brien
,
Bernie Bauer
,
Ken and
Barbara Overholt
,
Al and Helen Atwell
,
Ed and Patti Straten
,
Gerrie Marsch
, and
Elspeth Lloyd
.
Our Chapter lost a fine shipmate with the passing of Ed Marsch on 20 August. Rest in Peace shipmate.
Pat and Libby O'Brien continue to travel. In July, they went on a 3,700+ mile road trip to Ohio, Canada, Connecticut, Virginia Beach, and Georgia before returning home. In Connecticut, they got to spend some time with Jim and Joan Futtner. Jim is doing well, but Joan has been in and out of the hospital. Please keep her in your prayers. While visiting with Pat's daughter, Kelly, and her family, Libby and Pat traveled up to Rhode Island to play a round of golf. The O'Briens have now played golf in 43 states. After leaving Connecticut, they traveled to Virginia Beach to visit with Pat's youngest
son, Sean, and his family. Then it was onto Georgia to visit with Libby's grandson, Ryan, who's a warrant officer in the Army. Two weeks after returning home, Libby flew up to Norfolk with her daughter and son-in-law. Libby's grandson, Cole, returned from his first Navy deployment, and Libby and Cole's parents were there to greet him. Cole is an Operations Specialist aboard the USS Gravely.
Ed and Patti Straten have been busy preparing for their cruise to the French Rivera and the Med. They
will fly to Rome where they will spend a few days touring the Vatican, Coliseum, Trevi Fountain, Spanish Steps, the Forum and
several wine and pizza bars.
Then they board the Celebrity Constellation for a beautiful cruise with ports in Florence, Pisa,
Portofino, Nice, Provence, Toulon, Sete, Valencia, Palma De Mallorca and Barcelona.
Au Revoir!
Nancy and Larry Warrenfeltz
made an August trip to Seattle to visit their daughter, son-in-law, and two grandsons. The timing allowed Nana Nancy to bake and decorate youngest grandson Michael's 4th birthday Super Hero cake. It had a cape with an "M" and a shield with a "4." They are enjoying University of West Florida football and volleyball this fall. Larry also spends many evenings refereeing high school volleyball.
Paul Belt and Cheryl Alter.
In mid-June Paul made an unexpected visit to southwest Iowa to attend the funeral of his uncle. While the event was a sad occasion, the local VFW provided military honors for his uncle's service in the Army during the Vietnam war. Paul said that it's always an honor to see these women and men provide this patriotic service to previous service members. In August, Cheryl and Paul visited their friends, the L
each's, in Fort Collins, Colorado.

They

enjoyed some spectacular sightseeing while there. Paul also

realized he's quite
nervous on the narrow park roads in Rocky Mountain National Park (12,005 feet) and
the Mount Evans Wilderness (14,130 feet). The tree line in Colorado is around 10,500 feet! Fun Fact:
The National Park Service does not put guard rails on their roads. "Yikes
!
"
S
o
,
when you're above the
tree line
,
a miscalculation by the driver could end things quickly.
The wind was blowing a good 25 mph on the mountain top when
Paul and Cheryl
posed for this photo
.
Paul
did tell Cheryl to enjoy the view as
he
would never be travelling the winding roads of Mount Evans again!
Paul
concluded the summer with a 10-day visit to San Diego and enjoyed fine food and hanging out with
his
grandson, Alex, and his parents Scott and Simona-Strianese Belt.
In the picture below,
Alex and
Pau
I are enjoying a lawn
chair
that Paul thought made
him look slimmer.
Source: Aerograph August 2019
The Pensacola Chapter met on Flag Day, June 14, at the Brew Ha Ha Bar and Restaurant. Those in attendance were
Larry and Nancy Warrenfeltz, Ed and Gerrie Marsch, Ed and Patti Straten, Bernie Bauer, Ken and Barbara Overholt, Denny and Helen Maljevac and Pat and Libby O'Brien
.
Libby began the get together by passing out "Navy Wife" ball caps to those women who were unable to attend the NWSA Reunion 45. The caps were compliments
of
Dale Grages.
Denny Maljevac reported Elizabeth Tokryman was just released from the hospital following a bout with pneumonia We ask that you please keep her in your prayers.
Pat and Libby O'Brien have moved. Their new address is 6913 Raburn Road, Pensacola, FL, 32526. They no longer have a land line so their cell phones are their only way of communicating except for emails! Libby's cell phone is (850) 516-3648 and Pat's is (850) 516-9587, but it may tough getting through to Pat because according to Libby, he never answers it much less have it on. Between getting their old house emptied and the new house furnished, the O'Briens have been kept extremely busy. Pat did find time to have his second cataract surgery and have his pain management doc put three shots in his back. The latter was of little or no help, so Pat is now undergoing physical therapy two times a week. He says there's been no difference in the pain, but all the stretching has helped his golf swing. Notice, he didn't say it helped his golf game. Pat stays in touch with Gerry Dufford and Bruce Glaes via e-mails since they both live in Tallahassee. Bruce had some health issues earlier in the year, but appears to be doing much better now. He and Pat love discussing politics and exchanging political cartoons. Libby is setting up a football/golf/sightseeing trip to Ireland in August of 2020. The Naval Academy plays Notre Dame in Dublin, and the golf and sightseeing are add ons. The O'Briens traveled to Evansville, IN, over the 4th of July to visit with Libby's youngest daughter and family and to see her newest great grandchild. At the end of July, they plan to motor up to Toronto to visit with Canadian golfing friends; Connecticut to visit Pat's daughter and family and to see Jim and Joan Futtner; then Virginia Beach to visit with Pat's youngest son, Sean, and his family. While there, Libby's youngest grandson will arrive back in Norfolk from his first navy cruise. Pat and Libby hope to spend some time with him and his mom and dad who will be there to greet him.

Ken and Barbara Overholt have downsized their motor home. Last August, they decided to move from a 30 ft class-A motor home to a 25 ft class-C. It has taken them some time to get used to the smaller space. but they're doing a lot of traveling in it. They've put over 12000 miles on it so far). In October, they traveled to southern California to visit Ken's family and his 101-year-old mother They were gone for a month. In December, they headed east to visit Barbara's brother who lives in Live Oak, Fl. April found them headed back to California for NWSA #45. This was the first time they traveled west during the spring. They were impressed by the many flowers and blooming trees they saw along the way. The reunion trip gave them another opportunity to visit their California family again. They had a couple of minor mishaps along the way, but Ken says, "That's half the fun of traveling in an RV." Since returning from California, the Overholts have stayed close to home. Ken says, "Going to the doctor seems to be the norm for our age bracket". They did attend their grand-daughter's high school graduation, and Ken still volunteers two days a week for one of the non-profit organizations in town. Church activities keep them going, and they are making plans to attend the next reunion in Savannah come April. They enjoy renewing old friendships and making new friends at each reunion and hope many more members will attend the upcoming one.

Rose and Arthur Frazier have had a very busy year. They both made their goal weight in TOPS (Take Off Pounds Sensibly) and Arthur was crowned the King of Florida for having lost the most weight of all the men in Florida to reach his goal in 2018! In Feb. they went on a cruise with about 200 other TOPS members out of Ft. Lauderdale. In April, the State held their annual Recognition Days (SRD) and Arthur received his crown. Both he and were able to walk across the stage as new KOPS (Keeping Off Pounds Sensibly) and Rose was also eligible to participate in the before and after part. Arthur lost about 50 pounds and Rose has lost over 80! In April, they also got to visit Mount Dora and attend their niece's wedding. In May, their son, Tim, came home for the summer having finished a tough junior year at FIT (Florida Institute of Technology). In June, Rose and Arthur went to Seattle and went on a week-long Alaskan cruise with friends. In July, they went to Portland Oregon for the TOPS IRD (International Recognition Days) for Arthur to represent the state of Florida! Then they went to Las Vegas for Arthur to compete in the National tournament for his pool league. There was another trip following that to Tulsa, OK to visit relatives, including their grandsons, and then it was time to send Tim back to school for his senior year!
Larry Warrenfeltz enjoyed good (i.e., rain-free) weather at the Florida Softball finals in Vero Beach this year. He says they paid their dues in 2018, when the tournament suffered through six rain days! He and Nancy made their annual trip to Kill Devil Hills, on the North Carolina Outer Banks. The reunion with Nancy's sisters and brother and their families is one of the highlights of the year. They took two grandsons to the Wright Brothers Memorial to learn about the first powered flight in 1903. They might have a future naval aviator or two! From NC, the Warrenfeltzes continued to West Virginia so that Larry's mom could see six of her great-grandchildren at one cookout and pool party.
Ed and Patti Straten had a busy spring. They traveled to NH for Patti's cousin's 70th special birthday celebration (a limo ride into see a Frankie Valli concert!), a high school graduation celebration for their grandson Braedyn, and a dance recital for their granddaughter Jordyn.
While in NH, Patti had the usual wonderful time with her sisters at their annual psychic weekend in the White Mountains of NH. She also attended a very special Irish family reunion. For the very first time, the three granddaughters of the three McCarthy sisters of Ireland…were together under one roof. That called for a few toasts with wine, some tears and very emotional stories. Can you imagine? Ed and Patti also had a great time on a road trip to beautiful Galveston, singing Glen Campbell songs the whole trip. Now they are excitedly anticipating their four-day vacation in Rome followed by a wonderful ten-day Med cruise to Italy, France, and Spain to celebrate Ed's 70th birthday
Retirement is tough…
Paul Belt and Cheryl Alter
have enjoyed 2019. Paul once again headed west to Guam to visit Roger and Lisa Cauley for four weeks. During Paul's visit they traveled to the Philippines for a week of golf and
fun. On 21 May he and Cheryl again traveled to Europe for a 15-day vacation with friends. They spent a week in both Austria and Switzerland traveling by train through both countries. Their first few days were in Vienna where they saw the city sites using Hop On / Hop Off bus tours. What a beautiful city with amazing museums and subway system! They then worked their way towards Switzerland, spending one night in Hallstatt by a beautiful glacier fed lake, and two nights in Salzburg where they toured the amazing "Fortress Hohensalzburg". You can read about it at:
https://www.salzburg-burgen.at/en/hohensalzburg-castle/
. They then traveled to Interlaken, Switzerland where they stayed in an
AIRBNB for four days which included celebrating Cheryl's birthday with lunch at the top of Schilthorn Mountain.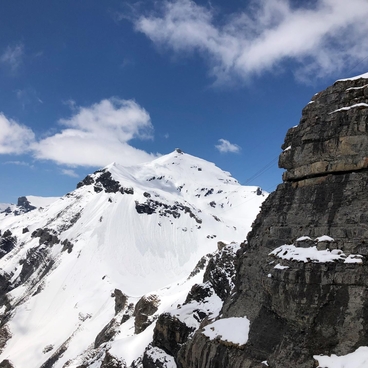 Submitted by Pat O'Brien, Sec/Treas.
Source: Aerograph May 2019
Pat & Libby O'Brien continue to stay busy. They are still season ticket holders, along with Bernie Bauer, for the Pensacola Ice Flyers Ice Hockey Team and Pensacola Blue Wahoos Baseball Team.
Of course, the O'Briens are still playing golf and traveling In March, they flew to Costa Rico for a week's vacation with Pat's daughter and son-in-law, but within a few hours of arriving they were informed their 22-year-old granddaughter had died. They immediately returned home and exchanged summer clothes for winter clothes and headed off to Indiana to be with the family.

The O'Briens next trip was to attend NWSA #45. Pat drove 4,935 miles and says he won't being doing that kind of driving again anytime soon. Of course, Libby provided directions via her waze app. Their original travel plans called for stops in Houston, Fort Stockton, and Phoenix before arriving in Newberry, Ca. Guess what. Those stops didn't happen. Due to major traffic issues in and around Houston, they decided to push through Houston and spend their first night in Sealy, Tx. The next day they bypassed Fort Stockton and spent the night in Van Horn, Tx. On day three, they decided to head to San Diego and spent the night in Yuma, Az. At this point in their journey, the navigator was not happy with the pilot. Seems the pilot was driving too many miles each day. Pat says he hates to waste daylight.
San Diego was a first for the O'Briens. Neither of them had been there before. They stayed at the Naval Base at 32nd St. which was very convenient. A couple hundred-yard walk took them to the base trolley stop. Three stops into town and they were at the San Diego Padres Ballpark. They watched the Arizona Diamondbacks hand the Padres and embarrassing loss. The next day they went into the center of town, had breakfast and walked God knows how many miles looking for a hop on-hop off bus in which to tour the city. When they finally found the bus terminal, they had a great tour of the city. The Kansas City Barbecue Pit was near the terminal, so following the tour, they ate there. This restaurant was featured in the movie "Top Gun", and there were lots of memorabilia. On top of that, they say the food was really good. When they left San Diego, the traveled north via I-5. The other choice was I-15. They were told they made the correct choice because I-15 was a nightmare that day.
Pat, Libby, & Gary Cox helped Cap and Lori Casperson with doing the last-minute shopping and setting up the hospitality room. The O'Briens say, "The highlight of #45 was the trip to the Reagan Library, and if you ever get out that way, don't miss it." The docents do a magnificent job as they lead you around the grounds and buildings. It's no wonder Moon Mullen always talks about it in the most positive ways. It's fantastic.
Following the reunion, the O'Briens headed to St. George, Ut, to play a round of golf. Their goal is to play golf in every state, and Utah was on the list. They played Sky Mountain G.C., and both agree the course provided some of the most beautiful sights you would ever want to see. Pat's not sure they would have played any better golf on a calm day, but the near gale force winds on the day they played didn't help their scores. On their way home, they encountered snow in the mountains and high winds. The winds stayed with them all the way home to Florida.
The O'Briens next trip is a much shorter one. They will travel over to Biloxi, MS to attend the USS Nimitz Association Reunion. They invite any and all AG's and meteorologists that served on her to come and enjoy the festivities. It's being held at the IP Casino and Hotel from 6 to 10 May.
Denny and Helen Maljevac received some great news recently. Since his retirement, Denny has had six surgeries to address glaucoma in his right eye. However, almost a year ago he lost the vision in that eye. Although another surgery was possible, his ophthalmologist said
it was high risk and could result in major complications downstream. The decision was to either have the surgery or to just accept his condition. Denny and Helen decided against the surgery. However, at his most recent ophthalmology visit Denny was able to read the first three lines of the eye chart. Talk about amazement! Needless to say, there was celebration at the Maljevac homestead.
Every day is a gift.
Larry and Nancy Warrenfeltz greatly enjoyed the 45th Reunion in California. The weather was gorgeous and the southern California scenery was stunning. By itself, the Ronald Reagan Library is worth the trip! Back in Florida, Nancy was this year's president of the Mardi Gras Krewe of Les Gals — a women's krewe that allows guys to attend their annual Mardi Gras Ball as arm candy for the ladies.
Larry is immersed in the softball season as the Umpire-in-chief for Florida high school softball and the assistant UIC for the Panhandle State College Conference. Nancy knows he's at a ball field … but which one?
Paul Belt took an extended trip into places unknown in the Pacific, except to him, He will fill us all in on his travels in the next Aerograph.
Submitted by Pat O'Brien, Sec./Treas.
---
---