Donald Milton Pell

Indiana

AERM2c USNR

World War II

Oct 7 1920 to June 5 1945

.

Remembering all those who came before

Taps

The original version of Taps was called Last Post, and was written by Daniel Butterfield in 1801. It was rather lengthy and formal, so in 1862 it was shortened to 24 notes and re-named Taps.

Click on the link below to listen and watch the YouTube video by members of the U.S. Navy Band:

Died Oct. 27, 1944 South Pacific

In the Service of His Country
---
(This Listing Only Goes Back a Few Years -- More Names and Possible Corrections Needed.)
Listing of AGs and Their Spouses Who Have Passed
Compiled by CDR Earl Gustafson, USN RET
---
There is HISTORY, LEGECY, and MEMORIES with all those who served and came before, whether they be Military, Civilian, or Spouse. You will find, listed by Aerograph edition, some of those who came before us. This is history worth repeating.
---
Passed March 29, 2018 at Age 75
Karl Loeper was the calm during the storm. As an in-flight meteorologist for the Navy's "Hurricane Hunter" squadron, he kept his cool when colleagues needed help navigating perilous conditions.
And when Loeper came to The Villages 12 years ago as the voice of AM-640 WVLG's weather forecasts, he put weather-weary listeners at ease through the worst of Florida weather. "He had a great way of assuring people, because of his knowledge, that everything will be OK," said WVLG station manager Kathleen Kane.
Loeper died Thursday morning at The Villages Hospice House months after suffering a stroke. He was 75.
"Very unhappy news to hear about Karl's passing," said WVLG senior forecaster Dave Towle, of the Village of La Belle. "He was a wonderful, wonderful person." Since his WVLG debut in 2005, Loeper, of the Village of Belvedere, left his mark on anything and everything having to do with weather in The Villages.
Beyond forecasting, he also formed a team of volunteer weather spotters who use equipment such as rain gauges, digital lightning detectors and weather stations to identify weather phenomena. He used the data from those observations in daily forecasts and monthly and yearly climatology outlooks.
Flying through the storm Loeper's meteorology career began with his 20 years service in the U.S. Navy, which included five years with its weather reconnaissance aircraft squadron known as the Hurricane Hunters. Until the Navy decommissioned the Hurricane Hunters in 1975, Loeper flew through storms to obtain data and information about them. "He was telling us where to go in the storm, so we had to trust him and like him," said Gary Polletta, of Jacksonville, who served with Loeper in the Navy's Airborne Early Warning Squadron Four. "We ended up loving him."
Loeper said he flew into 15 hurricanes. "You can't see your way in or out," Loeper said in 2015 about the experiences. "You can feel the rain beating on the side of the plane. It would rain so hard, sometimes the rush would cause the engine to shut down. When you hit the hurricane, the captain will say, 'Commence penetration!' They don't even know it's going to happen. They see it, then boom!"
Loeper remained close with fellow veterans on his squadron and attended annual Hurricane Hunter reunions. At a 2009 reunion, Loeper encouraged fellow Hurricane Hunters to donate to Operation Shoebox, the Belleview-based nonprofit group whose volunteers pack and ship care packages for troops overseas. The group gave $1,000 to Operation Shoebox, one of Loeper's favorite causes. He spent most Monday afternoons volunteering with the nonprofit. "He was a wonderful volunteer," Operation Shoebox founder and president Mary Harper said. "He worked so hard for the troops. He's a tremendous loss."
Paul Tilson, of Viera, another Hurricane Hunter, remembered him through the years as a good leader who had a sense of humor that included making up funny sounding interjections. "It was a lot of fun," he said. "You banter back and forth on the way to a storm or on the ground." Tilson was looking forward to a mini-reunion with Loeper and others in a core group of Hurricane Hunters that stayed close with each other. They planned to do something in Central Florida so they could be close to him. "Instead," he said, "we're going to a funeral."
A community weather asset Loeper — who held the title of staff meteorologist with the radio station — kept residents informed about weather phenomena in the community that impacted their lives. He was there for routine seasonal events like heat and cold spells, and he was there for destructive storms like the Groundhog Day tornado in 2007 and Hurricane Irma last year. "He would get up at 3:30 a.m. to get the most up to date information on the weather, be on the air from 6 to 10 a.m., and then he'd call again in the afternoon," Kane said. "Especially with the past hurricane. He and I were together that day in the studio. He was reporting exactly what was happening."
Loeper's work might not have been possible without the army of volunteer weather spotters he volunteered, now more than 70 Villagers strong. And he made sure his spotters were appreciated, said Joe McElwee, one of the first residents to get involved. "Karl worked hard trying to recognize the people involved in this volunteer activity, showcasing them on the radio and recognizing their birthdays on the radio," said McElwee, of the Village of Glenbrook.
Following the Groundhog Day tornado, Loeper and McElwee worked together to improve the reception of the National Weather Service's Sumter County transmitter in Sumterville. They became close friends through working together. "Karl was a highly experienced and knowledgeable professional in his field, and we were extremely fortunate to have his talents in The Villages," McElwee said.
He also made countless appearances as a guest speaker at various club and neighborhood group meetings in The Villages, where he spoke about severe weather in Florida. This outreach proved valuable for educating the public on why preparing for severe weather events is important, said Dan Noah, a meteorologist with the National Weather Service in Ruskin. Noah worked alongside Loeper for four years at the weather service. Loeper also helped Noah get involved in his own outreach to Villagers. They both appeared regularly at The Villages' annual Hurricane Expo, which presents information on preparing for hurricanes and other severe weather events. "Once you leave the National Weather Service, you don't stop loving weather," Noah said. "And Karl loved weather."
Saying farewell – "Funeral arrangements will be made after Easter," said Patty Loeper, Karl's wife. A funeral mass will be Monday, April 9, 2018 at 10 a.m. at St. Mark The Evangelist Catholic Church. Inurnment will be at Florida National Cemetery with honors presented by the US Navy.
In lieu of flowers, the family encourages people to give memorial donations to Operation Shoebox in his memory. Donations can be mailed to: Operation Shoebox, 8360 East Highway 25, Belleview, Florida, 34420.
From Villages-News.com March 26, 2018 Staff Report
---
Patricia A. Forsberg
March 21, 1929 - January 7, 2018
(Wife of LCDR Robert C. "Bob" Forsberg, USN Ret)
Pat was born in Sioux City, Iowa where she lived until her marriage to AG3 Bob Forsberg in January 1948. During 22 1/2 of their 70 years of marriage she was a supportive Navy wife. Pat spent three tours overseas with Bob, once in Kodiak, Alaska and two on Guam, M.I. On the second time on Guam she volunteered as a Gray Lady for a year at the then new Naval Hospital. During Bob's first tour at PMR, Pt. Mugu, CA Pat took a job as school secretary at an elementary school in Port Hueneme, retiring in 1986 after 25 years of service.
She is survived by her husband, two sons, Richard and William, and a sister, Mrs. Barbara Jensen of Fort Dodge, Iowa.
Arrangements under the direction of Funeraria del Angel Oxnard, Oxnard, CA.

---
CDR Arnold William "Bill" Pruitt, Jr., USN RET
February 26, 1926 to February 3, 2018
Arnold Pruitt passed away on February 03, 2018. Funeral Home Services for Arnold are being provided by NC of Milton, FL.

CWO4 Carl W. Matthews, USN RET
January 12, 1921 to March 18, 2018
Virginia Beach - Carl W. Matthews, CWO-4 USN, Ret., 97, passed away peacefully on March 19, 2018 at his home. He was born on January 12, 1921 to the late William Jess Matthews and Elfrieda Martha Kobsch in Taylorville, IL. His sister, Anna Louise Robison, daughter, Gail M. Garner, and a grandson, Michael A. Matthews Jr., preceded him in death.
Mr. Matthews proudly joined the
U.S. Navy
in 1939 retiring in 1970 after 30 years of service. He was a true family man who was always there for his wife and children, encouraging respect and ensuring a sense of security and stability as part of a large, loving family.
He is survived by his loyal and loving wife of 74 years, Frances Lorraine "Rainey", three daughters, Patricia Strong and husband Roger of Berlin NJ, Linda Beisch and husband William of Virginia Beach VA, and Doris Locke and husband Joseph of Jacksonville FL; three sons, Carl Matthews, Jr. and wife Gale of Selma NC, Michael Matthews and wife Mary of Virginia Beach VA, and Christopher Matthews and wife Marsha of Chesapeake VA; seventeen grandchildren and thirty-five great-grandchildren.
Mass of the Resurrection was celebrated on March 22, 2018 at St. Gregory's Catholic Church, 5343 Virginia Beach Blvd., Virginia Beach VA 23462 Following the Mass, a graveside service was held at Rosewood Memorial Park, 631 Witchduck Rd. Virginia Beach, VA,.
The Altmeyer Funeral Home-Southside Chapel is assisting the family with arrangements. Online condolences may be expressed by visiting
www.altmeyerfh.com
.
In lieu of flowers, memorial gifts may be made to St. Gregory the Great Catholic Church. To make a donation, please visit
www.tmcfunding.com
.
Submitted by Frank Muscari via Fay Crossley, HRC Pres.
---
CDR William E. "Bill" Baldwin, USN RET
April 18, 1929 to July 19, 2017
William E. Baldwin, 88, died July 19, 2017 at his daughter's home in Maryland. Bill was born in Kansas City, MO on April 18, 1929 to Ruth Steenbock Baldwin and Earl Raymond Baldwin. In 2006, he was predeceased by his wife of 51 years, Ramona G. Loudermilk.
At age 19, Bill joined the U.S. Navy as a Seaman Recruit, rising through the enlisted and officer ranks to retire as a Commander after 30 years of active service as a meteorologist. He served with the Amphibious Forces during the Korean Conflict. He was stationed all over the U.S. and the world, retiring in Meridian, MS, in 1978.
For a few years, Bill worked at Lowe's and ran his own handyman business before volunteering almost full time with Habitat for Humanity beginning in 1990. For 16 years, he assessed sites, built homes, served as Vice President and President, and took photos for Habitat. He was a Mason, a Shriner, and an active member of Central UMC. He was active in the Retired Officers' Association and The Mac Users Group. In 2007, Bill moved to Maryland. He lived in the Wildewood Senior Village, then at Asbury Solomons, and finally with his daughter and her family. He attended First Saints Community Church, serving as an usher.
Mr. Baldwin is survived by his daughter, Sheila Galanie and her husband James Galanie of California, MD, and their two children, Stephanie Galanie and her husband Ryan Salvador of Palo Alto, CA, and David Galanie of Arlington, VA.
Services were held at First Saints Community Church, Leonardtown, MD, on Saturday, July 22, 2017.
Published in The Enterprise on Aug. 9, 2017
I AM SURE THAT SOME OF YOUR REMEMBER BILL. HE WAS A TRUE SAILOR. HE WENT INTO THE NAVY
AS E-I AND RETIRED AS O-5. HE REENLISTED ME THE FINAL TIME SO THAT I COULD GO TO DIEGO GARCIA. HE WAS MY SPONSOR WHEN I MADE CPO. HE WAS MORE THAN A SKIPPER, HE WAS SOMEONE THAT YOU COULD CONSIDER A FRIEND.
---
LCDR Robert Ross, USNR RET and wife Mary
Fairport, NY - January 31, 2018. Survived by son, Robert (Teresa) Ross; daughter, Jennifer Pearl; grandchildren, Haden, Parker, Nicolas, Cameron, Brady and Nicholas.
A Funeral Service will be held at the convenience of the family. In lieu of flowers, please consider donations to Lollypop Farm. For further information, please visit:
www.keenanfuneralhomes.com
Published in Rochester Democrat And Chronicle from Feb. 21 to Feb. 22, 2018.
I first met Bob when I was OIC at NWSED South Weymouth. He was an AGC with a drilling reserve weather unit which drilled at the det one weekend a month. He was very professional and an exceptional leader. He applied for the LDO program and I wrote the endorsement letter for his (successful) application. We kept in touch over the years and after we had both retired, Bob, Mary, Helen and I would get together and keep our friendship alive. The four of us were to get together again this month. However, this past December, Bob was diagnosed with inoperable stage 4 brain cancer and given a short time to live. For a while no one could contact he and Mary and no one knew
where they were. The police issued a missing persons report and enacted a diligent air and surface search. Bob and Mary's bodies were found by divers in their SUV at the bottom of a local river, 80 feet downstream from a boat launch. His extended family and yours truly were devastated by the news. I'm a better man for having known Bob.
Keep your friends close.
Submitted by LCDR Dennis Maljevac, USN RET
---
AG1 Verne L. Ballard, USN RET
March 28, 1940 to August 18, 2012
Verne was born March 28, 1940 in Auburn, Washington and called by his Lord on Saturday, August 18, 2012.
His love for the weather was electrifying. He spent 20 years in the U.S. Navy and continued his career at the National Weather Service until his retirement.
He loved and treasured his time with his family. He was a great and loving husband to Carmelita; a very wonderful and spoiling father to Christian and Veronica; a caring brother to Marion Jr., Beatrice, John and Jan, and an amazing friend. He left so many memories that touched our hearts.
He was preceded in death by his father, Marion Sr.; mother, Mildred; stepfather, Lloyd; and brother, John.
A Mass of Christian Burial took place on August 24, 2012, at St. Paschal's Catholic Church, 2523 N. Park Road, Spokane, WA. Inurnment with Military Honors followed at the Washington State Veterans Cemetery in Medical Lake, WA.
Submitted by AG1 Alan D. Baker, USNR RET
Passed October 22, 2017 at Age 75
Wife of AGCS Mike Fastow, USN RET
FASTOW (Spornhauer), Jeannine A. Age 75, of Wimberley, passed away Oct. 22, 2017. Service pending. Thomason Funeral Home, Wimberley, TX.
Published in Austin American-Statesman on Oct. 25, 2017
Submitted by Jim Maxwell, Lone Star Sec/Treas.
AG1 Wesley I. Perry, USN RET
May 30, 1933 to January 15, 2018
The social butterfly we all knew and loved, took his final flight on Monday, January 15, 2018. Wesley I. Perry grew from the Great Depression, born May 30, 1933 to Percy "Pete" and Margaret Perry, in Spencer, NY.

His life revolved around people - from his job with the Pennsylvania Job Center as an Employer Relationship Representative, helping employers, potential employees and disadvantaged youth, to being active in the Penn York Bowling League and member of the New York State Bowling Hall of Fame, Valley golfing leagues, recreational softball leagues (coaching and playing), Boy Scouts, and many more while living in Florida; to helping and giving back to people - as a member and Commander of both the VFW Skiff Bower Post 1536 and local American Legion, and member of the Catholic War Vets, Sons of Italy and Fleet Reservist Association; to serving people and his country - retiring after 23-years in the US Navy, E6 Meteorologist; to being a father of five daughters and innumerable "adopted" children.

Every father wishes for sons. Wes Perry did one better. He taught his daughters to be strong, independent, athletic and frugal and often presented them with challenges to improve themselves socially, economically and civically.

The oldest of 13 siblings, Wes was predeceased by his parents, Percy and Margaret Perry, and brothers, Norman, Gerald, Robert and Charles Perry. He is survived by brothers, Richard (Cynthia), William (Gayle), Clifford, and John and sisters, Betty (Skip) Searfoss, Bea Hyatt, Jean (Gary) Rockwell, and Cheryl Zorn. Wes is survived by his wife of 47-years, Diane (Bydairk) and daughters Patricia Emi (Willard) Oshiro, Tina (Ken) Acla, Shannon (James) Moore, Clara (Doug) Cherry, and Karliane Perry, nine grandchildren, two great grandchildren and nieces, nephews and cousins too many to count.
There will be a celebration of life at the convenience of the family
Submitted by Karliane Perry via AGC Larry Field, USN RET
---
LCDR Morris L. "Morry" Summey, USN RET
3 November 1928 to 6 January 2018
Lieutenant Commander (LCDR) Morris "Morry" Latham Summey, 89, of San Diego, California, died 6 January 2018. He was preceded in death by his wife of 50 years, Joan, and survived by daughters Martha S. Locke of Vallejo, CA and Marilyn S. Roberts of Herndon, VA, seven grandchildren, and nine great-grandchildren.

An only child, Morry was born 3 November 1928 in North Carolina to the late June H. and Mary C. Summey. At the age of 17, he began his 30 year career in the US Navy as a seaman. He retired June 1975 as a LCDR having served the majority of his career as a meteorologist. Duty stations included NAS Miramar, three tours on Guam, the USS Hornet, NAS Brunswick, Amphibious Group Three and a final tour at NAS North Island. When stationed at Miramar he met his future wife, Joan, while on a group date and within the year the two found themselves on 14 April 1950 married. Hand in hand they moved from duty station to duty station building long lasting memories and friendships along the way. Upon retirement, he completed his education earning his Bachelor of Science in Accounting at San Diego State University.

Morry, an avid reader, also enjoyed cross word puzzles, golfing, cooking, spending time with his family, and cheering on the Padres with his wife, Joan. He especially looked forward to his annual Father/Daughter road trips to the Naval Weather Service Association (NWSA) reunions. Over the years he was active in the Military Officers Association of America (MOAA), the Elks, and served in a variety of roles in the NWSA and Southern California NWSA Chapter. Most recently he served as the secretary/treasurer for the chapter.

As they passed through this life, a running thread throughout Morry and Joan's story was dedicated service to family, to country, and to others they would come upon along the way.

There was a graveside ceremony on January 13th at
El Camino Memorial-Sorrento Valley, 5600 Carroll Canyon Rd.,
San Diego, CA 92121. They requested, in lieu of flowers, donations be made to one of the following: American Heart Association, Diabetes Association or Navy Memorial
xAG Ronald Jepson Lopp, USN REL
Passed November 23, 2017 at Age 89
Ronald Judson Lopp passed away peacefully in the hospital on November 23, 2017, while recovering from surgery. He was 89, and is survived by his wife Elaine, twin brother Donald (Joan), sister Ann Stemwell (Dick), a nephew and 3 nieces. He was preceded by his parents Dwight and Alice, brother Tom, and sister Kathleen Smith (Verbeck).
Ron was born in Seattle on January 16, 1928, and raised in the Ravenna neighborhood, attending Roosevelt and Broadway High Schools. During high school Ron and his two brothers were employed by the Post Office due to a shortage of mail carriers. Ron and his twin brother joined the Navy as weathermen, and went on Operation Highjump in Antarctica in 1946-1947, which established the Little America research base.
After leaving the service, he attended the University of Washington, obtaining degrees in Biology, Geography and Weather. He went on to work for the Fisheries Department, as a research observer on fishing boat. In the 1960's, he moved to Purdy with Elaine, and taught in the Pierce County school district. Later in life, he became very interested in the law, and was a vocal advocate for more open county government.
When he was younger, Ron toured the state on his bike. He often persuaded local police to let him stay overnight in small town jails, as they were safe, and he found the food to be pretty good.
Rest in Peace, Ron.
Published in The Seattle Times on Jan. 7, 2018
---
Winona M. Chapates
Passed October 17, 2017 at Age 85
(Widow of AGCS Alexander V. Chapates, USN RET)
Winona Muriel Chapates, age 85, died peacefully on Tuesday, October 17, 2017 in Yuma, Arizona.
Winona lived with her husband of 67 years, Alexander, for 25 years in The Villages before relocating to Yuma, Arizona following her husband's death.
Winona was born in Philadelphia, Pennsylvania to Charles S. and Winona M. (Zimmerman) Creighton. She was the older of two children. Winona met and fell in love with an U.S. Navy Aerographer's Mate named Alex. They married and spent the next 20 years growing their family while stationed in such exotic places as the Philippines, Morocco and Spain. Following Alex's Navy retirement, they spent 14 years in Massachusetts where Winona enjoyed working as a nursing assistant in area nursing homes. In 1990, Winona and Alex relocated to The Villages to enjoy retired life.
Winona is survived by her brother Chuck and his wife Fran Creighton; six children and spouses: Robert (Jan); Linda (Leonard) Carrier; John (Cindy); Marianne Holmes; David (Jennifer); Diane (Bill) Scherer; 11 grandchildren, 13 great-grandchildren and many nieces and nephews.

The committal service will be held on Thursday, January 11, 2018, at 2:30 PM at Florida National Cemetery, Bushnell, FL.
CAPT Glenn D. Hamilton, USN RET
October 6, 1929 to December 5, 2017
Glenn Dale Hamilton passed away unexpectedly on December 5, 2017. He is survived by his son, Alan Hamilton and his wife, Joan, and their sons, Christopher and Jeffrey; Glenn's wife, Dolores, her son, Scott Litsinger and daughter, Lisa Escobar. The immediate family includes seven grandchildren, three great-grandchildren, two nieces and one nephew. Glenn was predeceased by his first wife, Marjorie (1963), and sister, Glenda (1999).

Glenn was born October 6, 1929 in Kansas City, Missouri to Clifton and Viola Hamilton. Very early he developed two great passions—Aviation and the Science of Weather. A
U.S. Navy
scholarship enabled him to pursue both during his lifetime. He left the mid-west, graduated from
UCLA
with a B.A. in Meteorology and an M.A. in Meteorology from the Naval Post Graduate School in Monterey. He earned his wings at the U.S. Naval Air Training Command in Pensacola, Florida, in l954. Recognizing his outstanding intellect, the Navy selected him to pursue a Ph.D. in Meteorology at the University of Stockholm, Sweden. Accompanied by his son, Alan (then 3 years old), he completed his Doctorate and went on to positions of leadership.
Glenn completed 24 years of active service in the U.S. Navy, having achieved the rank of Captain. Among his duties were: Aviator; Aircraft Carrier Navigator/Meteorologist/Oceanographer; Executive Officer of the Naval Fleet Numerical Oceanography Center in Monterey, California and the Navy Weather Research Facility in Norfolk, Virginia; Commanding Officer of the Naval Environmental Prediction Research Facility in Monterey, California; Commanding Officer of the Fleet Weather Central/Joint Typhoon Warning Center in Guam; and Deputy Director of Naval Oceanography and Meteorology in Bay St. Louis, Mississippi.
After retiring from the Navy with distinction, Glenn continued his work in Meteorology and Oceanography with the National Oceanographic and Atmospheric administration (NOAA). He directed the Data Systems Analysis at the National Data Buoy Center in Bay St. Louis, Mississippi.
Glenn's life's journey ended in "The Villages" in San Jose, California, where he retired to be close to his son and family. In 1992 he met Dolores at a tennis function; they married in 1993. Together they traveled extensively, enjoyed many quiet hours together, as well as many social hours with good friends and family. He served on the Villages Rules Committee, but delighted in being President of the Tennis Club and guiding it during the trials of new construction. Glenn is characterized as having been: reserved but friendly; accomplished but humble; one who was firm and secure within himself but compassionate with others.
Published in San Jose Mercury News/San Mateo County Times on Dec. 31, 2017
February 1, 1928 to October 20, 2017
Per information from BETTY ULRICH (wife of LT ALLAN ULRICH), there will not be a complete OBIT. This is AL'S wishes, but there are many friends on co-workers out there would like to know this about AL.
Al was one of the finest AG's that I every came in contact with and we were friends from the first time I met him, August 17th, 1959. He was the first AG supervisor that I had in my long career as an AG.
I had been an AGAN for almost two years when I was first assigned to be the observer for AL. He was shocked to find out that I had never been in a Weather Office in my life and was a true FLEET SAILOR. I had read the book, took the test on the USS INTREPID and passed it to become an AGAN. August 1959, I was ordered to NAVAL STATION BERMUDA and I became AG1 AL ULRICH's problem. After a brief introduction, I took a seat and watched AL go to work. He turned to me and said, "It's time for you to take the observation." and my reply "What's that?". He put me into the training mode and did most of my work until I learned the trade over the next 7 months. We became true friends and when I was shipped out to AG 'A' School the following March (7 months later), I was a good observer and plotter of maps.
We have stayed in contact over the years and I kept him on the mailing list for news from the AG Community. He had been ill for the past few years and lived in the upper part of New York State. He will be missed by everyone that served with him and the ones that came in contact with him in his most recent years. We send out our thoughts and prayers to his wife Betty and their family.
Submitted by his wife, Betty, and Bob Johnson, SE Chapt. 2nd V.P.
Senior Chief Franklin D. "Frank" Shrout, USN RET
October 19, 1937 to October 30, 2017
Franklin D Shrout, 80, died Monday, October 30, 2017. Born in Jefferson City, MO, Frank lived in Hampton from 1972 until moving to Carrollton in 1992. He served 20 years in the US Navy retiring as a Senior Chief. He was extremely proud of having served aboard the Nimitz both before and after it's commissioning. After retirement, Frank went on to work as a mechanic for Copeland Toyota Volvo and then the Wynne Auto Group.

Frank was preceded in death by his wife, Rosemary Shrout; a daughter, Kathleen Lynn Camper; and a grandson, Justin Wade Camper. He is survived by his daughters, Cheryl Ann Hines and husband David, Karen Sue Wiegman and husband Curtis; son, Danny F. Shrout; son-in-law, Mike and Diane Camper; sisters, Leota Stokes and Laurie Willet; grandchildren, Eric Scott Camper, Nicole Layne Camper and husband Christopher Cottrell, David Joseph Hines Jr., Douglas Jay Hines, Rebecca Ann Hines, Karrie Marrie Hawk and husband Jeff, James Douglas Wiegman and wife Christine; and great-grandchildren, Hunter Hawk, Anabeth Hawk, Piper Hawk, James Cottrell, Justin Cottrell, Aiden Hawk, and Rosemary Hines.
A funeral service was conducted on November 3, 2017 at R. Hayden Smith Funeral Home, 245 S. Armistead Ave, Hampton, followed by interment in Parklawn Memorial Park.
It hurt really badly though we did expect it. Any way. I miss him terribly but things are getting better. Take care, hold close the ones you love.
Submitted by Joan Akers, HRC member

---
AGC Gordon F. "Red" Driskell USN Ret
July 31, 1926 to October 16, 2017
Portland- Gordon Frederic Driskell, 91, longtime resident of Wyndham Street, passed away on October 16, 2017 after a brief illness. He was on born on July 31, 1926 in Portland, a son of John S. and Julia F. (Conley) Driskell.
Gordon was a graduate of Portland High School, Class of 1944. He enlisted in the United States Navy in 1944 and served in WW II, Korea and throughout the Cold War. He was discharged in 1948 and returned to active duty during the Korean War with honorable discharge in 1951. He continued to serve in the Naval Reserves until retiring 1970.
He married the love of his life, Audrey Elaine Stevens, in Portland on August 18, 1951.
While in the service he trained as an aerographers mate, which led to his service with the federal government as a meteorologist with the National Weather Service in Portland, Maine, and Brunswick. He retired in 1985.
He was member of the National Active and Retired Federal Employees Association and former President of Fleet Reserve.
He was pre-deceased by his siblings, Marguerite F. Driskell, Jeannette S. Kenniston, Donald A. Driskell and Barbara A. Driskell.
He is survived by a daughter, Shelbie Dyer and her husband Brian of Buxton, ME; grandchildren, Timothy of Standish, Laura and Ross of Buxton; son, Gordon A. "Russ" Driskell and his wife Mary Beth of Westbrook; great-niece, Dana Willette of Massachusetts; 2 great- nephews, Darren and Drew Willette of Texas and a great-great nephew, Liam Seddon of Massachusetts.
The funeral will be held on Saturday, October 21st .at Jones Rich & Barnes Funeral Home, Portland, Burial with military honors will be at Brooklawn Memorial Park on Monday.
Please visit www.jonesrichandbarnes.com for additional information and to sign Gordon's online guest book.
AGC William K. "Bill" Horner, Jr., USN RET
August 30, 1929 to August 31, 2017
William passed away on August 31, 2017 in San Diego, California. He was born on August 30, 1929 in Pennsylvania. William was a meteorologist, weather radiation for 40 years and lived in the San Diego county for 50 years. He will be missed by his family and friends. Arrangements are being handled by Clairemont Mortuary, 4266 Mt. Abernathy Avenue San Diego, Ca 92117.
Chief Aerographers Mate Bill Horner was a great friend and an accurate Weatherman!
Bill was an true OLD ANTARCTIC EXPLORER who Wintered Over at McMurdo Station Antarctica in DEEP FREEZE I, 1955-56. Bill returned to McMurdo Station during DF 61 as a member of the Commander Task Force 43 Staff, and was in Antarctic Support Activities Summer Support at McMurdo Station 1965-1967.
After Bill retired from the Navy, he worked at Point Loma for many years and retired again from Civil Service.
Fair winds and following seas, shipmate.
Aloha
Bruce DeWald
S1c Naomi Bellinger, USN REL
August 20, 1922 to January 29, 2017
Widow of AGC Lloyd Bellinger, USN RET
Born Aug. 20, 1922 Hayward ,California. Died Jan. 29, 2017. No obit. She enlisted 11 Mar. 1943 as AS, V-10 Had some form of training in Bronx, N.Y. Was Honorably discharged at Alameda NAS as S1c "For her own convenience (Marriage to a Navy Man)" on Oct. 20 1944.
When Pop [AGC Bellinger] rejoined after I was born she made homes for us near Tanapag, Siapan, near Pax River, Lakehurst (twice) and Pearl Harbor. After Pop retired from the Navy she carried in making homes near Ft. Sill, Ok. and Rantoul, Ill. Then they retired for real up near where Pop was Born in N.Y. state.

Her remains were interred at Arlington on June 21, joining those of Pop. The ceremony was attended by our two youngest daughters.
Submitted by Jeffrey Bellinger
CDR Rodney J. "Pat" Salts, USN RET
May 5, 1946 to August 31, 2017
Commander, Rodney Jay Salts (Pat), Retired formerly of Logan, Iowa, passed way August 31, 2017. He was 71 years old. Pat was born May 5, 1946 in Logan to Peter S. and Bernadine (Earlywine) Salts. After high school, he joined the Navy and after 34 years retired in 2000. Pat married Nancy Rexrode in 1971 and they resided in Picayune, Mississippi.
Pat is survived by his son Jason (Carey) Salts; 3 Grandchildren: Hannah, Nathan and Amy; Sister, Sandra (Don) Oviatt of Missouri Valley, Iowa; Brother, Steve (Rhonda) Salts of Spencer, Iowa; a sister Luann (Bob) Chonis of Las Vegas, Nevada; and brother, Tony (Jill) Salts of Beaverton, Oregon and their families.
He is preceded in death by his parents, his brother Pete Jr., wife, Nancy and daughter, Angela.
Visitation will be held Tuesday, September 5, 2017 at Sycamore Baptist Church from 10:00 a.m. until 11:00 a.m. Memorial Service will follow at 11:00 a.m.
Submitted by: AGC Bob Johnson, NWSA SE Chapter 2nd VP We thank Mr. Jason Salts (son) for his assistance in obtaining the OBIT and the following members for their assistance:AGCS Steve Turco and AGC Tim Kenefick for their assistance.
FROM AGC TIM KENEFICK:
I attended Pat Salts' memorial service, yesterday.. 05 SEP 2017.
Since I was the only one there with whom he had served, Jason asked me if I would say a few words.
I related a couple of things which happened, (I was actually very brief, considering I was vaccinated with a phonograph needle), and then told those there how I felt he was the best officer I had ever had the pleasure of serving under. He was direct in what expected, plus he had the view that the people working for him were people, and he had that seventh sense which he used to motivate them and let them know how important they were to him.
I finished by stating, that above all, he loved his people, and all those who worked for him, and who he worked for loved him in return.
I then stepped to front of the urn containing his cremains, shadowbox and picture, and did the best salute I could, before executing an about face and going back to my seat.
Jason said in going through the items Pat had stowed away and found a plaque of all the CO's for Cubi Point, and a theodolite. I advised him to pass on the [items to] the Naval Aviation Museum in Pensacola. That the placque would be a welcome addition to the Cubi Point "O" Club Bar. The Theodolite might be excess, but might be used in the weather service exhibit.
Dellinger Dailey "Dillie" Streuli
November 23, 1926 to August 26, 2017
Wife of CDR Joe Streuli, USN RET
Dellinger Dailey Streuli, 90, known as Dillie to her friends, passed away peacefully while in hospice care Saturday, August 26, 2017.
She was born November 23, 1926, in South Norfolk, Virginia, to the late William Wilson Dailey and Florence Olivia Dailey in a home built by her parents. She was a graduate of South Norfolk High School and became a long distance telephone operator with the C and P Telephone Company. She enjoyed placing calls for celebrities playing at the old Cavalier and Monticello Hotels. She met her future husband at a dance at the old Navy YMCA where he was captivated by her bright blue eyes. They married eight months later and together they enjoyed a loving marriage that lasted over 68 years. She provided a safe, secure, and loving home through sixteen moves through seven states while her husband was in the service before settling in Virginia Beach. She became a faithful member of the Lynnhaven Presbyterian Church in 1982.
She is survived by her devoted husband, Joseph; daughters, Laura Dianne and husband, Billy Rowell, of Hertford, NC, Terri Lynn and husband, Paul Johnson, of Orange Park, FL; sons, David Russell and wife, Michelle, of Virginia Beach, VA, Phillip Wayne and wife, Tina Marie, of New Albany, IN; three granddaughters, Nicole, Amber, and Katelyn; one grandson, Joshua; three great-grandchildren, Donivan, Domenic, and Lillia; sister, Marion and husband, Frank Delar, of Chesapeake, VA; sister-in-law, Dorothy and husband, Robert Reider, of Casa Grande, AZ; brothers-in-law, Edward of Wayne, NJ, and James and wife, Susan, of Moscow, PA; three step-granddaughters, eight step-grandchildren, and numerous nieces and nephews throughout the country.
Funeral service was held at the Lynnhaven Presbyterian Church on South Lynnhaven Rd. on Aug. 31, 2017, followed by interment in the Princess Anne Memorial Park. Condolences may be offered to the family at www.hollomon-brown.com
---
Ann Maston Salvato
Passed August 24, 2017 at Age 87
(Wife of CWO4 Jack Salvato, USN RET)
Ann Maston Salvato, 87, passed away August 24, 2017, in her home.
Born in Elizabeth City, NC, she was the daughter of the late George and Addie Maston. She was preceded in death by two sons, David Harrell and Kevin Harrell.
Left to cherish her memory: her husband, Giacomo W. "Jack" Salvato; two daughters, Barbara Ann Griffin and husband Jeff of Virginia Beach, VA and Lisa Marie Salvato and husband Nick of Lancaster, PA; two sons, Gregory Salvato and wife Jacqui' of Virginia Beach, VA and Christopher Salvato of Farmingville, NY; five grandchildren, Brittany Fisher and husband Jason, Tristan Johnson, Serena Williams, Alexander Williams, and Joseph Salvato; two great-grandsons, Bryson Fisher and Rigell Fisher; numerous cousins; and best friends, Chip and Susan.
A memorial service will be held on Saturday at 2:00 p.m., September 9, 2017, at Hollomon-Brown Funeral Home, Princess Anne Chapel. Condolences may be offered to the family at www.hollomon-brown.com
---
AGC M. Raymond "Ray" Bierly, USN RET
Passed August 6, 2017 at Age 80
M. Raymond Bierly, 80, Tarpon Springs, passed peacefully on August 6 after a short illness. Born in Detroit MI, Ray grew up in Columbus OH before joining the Navy at 18. While stationed in Lakehurst NJ, he met Joann. They married and transferred with his Navy service from RI to the Philippines and TX eventually settling in Toms River NJ to raise the family.
After retiring as Chief from the Navy in 1975, his career was spent in sales through real estate and owning Atlantic Computer Systems. Retiring to Tarpon Springs in 1989, he purchased a marina, running a water sport rental and patio furniture business in Redington Shores FL for several years.
He was a member of Toms River Kiwanis, Naval Weather Service Association and volunteered at Florida Hospital North Pinellas since 2008 working on their gift shop systems and serving as the hospital's Auxiliary Treasurer.
Mr. Bierly is predeceased by his wife of 53 years Joann, parents Lamar F. Bierly and Margaret Borger, brother Anthony L. and sisters Susan and Emilia. Son R. Jeffrey Bierly and wife Suzan of Albuquerque NM; daughter Lisa E. Bierly and husband William Reulbach of Toms River NJ; brother Sherman L. Bierly (Donna) of Swansboro NC; sister-in-law Betty Lou Bierly of LaCrosse WI; grandchildren Brittany and Grant; and several nieces and nephews, survives him.
A Celebration of Life service was held August 15, 2017 at First United Methodist Church Chapel, Tarpon Springs, where he was a member. Private burial will be at the family plot in Lakewood NJ. In lieu of flowers, Memorial donations may be made to Florida Hospital North Pinellas Auxiliary, 1395 S Pinellas Avenue, Tarpon Springs, FL 34689, where he served for many years and received great care from their gentle and kind staff.
Published in Tampa Bay Times on Sunday, 8/13/17.
Submitted by Lisa Bierly, his daughter
---
AG1 Richard R. Dempsey, USN RET
Passed August 5th, 2017 at Age 79
Richard R. Dempsey, 79, passed away on August 5, 2017.
Born in Hartford, CT, he was the son of the late Patrick and Margaret Dempsey. He worked in Antarctica in weather service for the U. S. Navy and was a member of the Fleet Reserve Association Branch No. 99.
Left to cherish his memory: his wife, Mary P. Dempsey; daughter, Tina Dempsey; and grandchildren, A. J. Grimsley, Canaan Grant, Richard Dempsey, and Dennis Dempsey.
The funeral service was held on Wednesday, Aug. 9, 2017, in the funeral home chapel. Interment will follow in Albert G. Horton, Jr. Memorial Veterans Cemetery. Condolences may be offered to the family at
www.hollomon-brown.com
---
xAG Lewis C. Moorman, Jr., USN REL
March 30, 1922 to July 12, 2017
Lewis Charles Moorman Jr., 95, of 3226 Downing Drive, Lynchburg, Va. died July 12, 2017 at Lynchburg General Hospital.
Born March 30, 1922 in Lynchburg, Lewis was the son of the late Lewis Charles Moorman Sr. and Lillian Whitten Moorman.
He is survived by his loving wife of 67 years, Shirley Smith Moorman and daughter and son in-law, Mr. and Mrs. Marshall Anderson Mays, Jr. (Faye and Andy) of Amherst, Va.
Lewis retired in 1987 as Plant Personnel Manager for Griffin Pipe Products Company with 33 years of service. He was the first Personnel Manager in the Lynchburg area to achieve accreditation as a bona fide Personnel Manager. Prior to that, he was employed by the National Weather Service as a Meteorological Aide. Following his career as a Meteorologist he continued to keep abreast of the latest development in the field of weather forecasting.
A decorated U.S. Navy veteran of World War II, Lewis served on Admiral H.K. Hewitt's staff and was assigned to an Amphibious Weather Forecasting Unit. He earned four stars for enemy action participation in the invasions and occupations of North Africa, Sicily, Salerno (Italy), and Normandy on D-Day. During the Sicilian Campaign he was temporarily assigned to General George S. Patton Jr's. 2nd Armored Division for special weather forecasting duty.
Later he continues his military service as Captain in the Virginia State Guard. He wanted to be remembered as a true patriot and was proud of his divided military service, serving both in the U.S. Navy and temporary duty in the U.S. Army. A devotee of Sir Winston Churchill and George S. Patton, Jr. he had the honor of being in their presence on numerous occasions.
During his civilian career Lewis was active in numerous industrial and civic organization, serving on boards and committees, and was a Mason, an Elk, and Kiwanian. He was a professional member of The American Meteorological Society, The American Society for Personal Administration, American Foundryman's Association, The Leica Historical Society of America, The International Churchill Society, The Lynchburg Civil War Roundtable, a Life Member of American Legion Post-16, and a longtime member of Centenary United Methodist Church. He was featured in the 1980 edition of "Who's Who in America'.
Lewis was an avid reader, a student of the Civil War, World War II, and the contemporary history of the 1920's decade. An automobile buff, he owned and drove several classic cars. To satisfy a sense of curiosity, he learned to play the organ and violin.
A memorial service was conducted at Centenary United Methodist Church on July 17, 2017. Interment privately at Spring Hill Cemetery.
In lieu of flowers please consider a memorial contribution to the National D-Day Memorial Foundation, P.O. Box 77, Bedford, VA 24523, Centenary United Methodist Church, 1501 Rivermont Avenue, Lynchburg, VA 24503, or Patrick Henry Boys & Girls Plantation, Inc., P.O. Box 1398, Brookneal, Va. 24528.
Submitted via Fay Crossley, HRC Pres/Sec.
---
AGCS (SW) Peter S. Corrigan, USN RET
June 22, 1947 to July 14, 2017
Peter passed away peacefully at his home surrounded by family. He is survived by his wife of 35 years, Deborah M. Corrigan; daughter Sara M. Tams (Michael) of Naperville, Illinois; son Stephen P. Scuteri (Kaleena) of Syracuse, New York; grandchildren, Jack and Emma Tams; his sisters, Kathleen Ellis of Huddleston, Virginia, Anne Donaghy (Robert) of Jamestown, North Carolina; and several nieces and nephews. He was predeceased by his parents, Raymond & Marie Corrigan; and son, Shawn P. Corrigan.
Peter was raised in Castorland, New York and was a graduate of C.W. Post University, Long Island. Peter proudly served 23 years in the United States Navy as a Meteorologist. After the Navy, he worked for the Monroe County Health Department for 19 years and retired in 2010. He was a member of Holy Ghost Parish where he volunteered for many committees.
Pete greatly enjoyed spending time with his family, friends, and grand dogs. He took great joy in traveling, bluegrass music and festivals, and ballroom dancing. He will be greatly missed by all who knew him.
The funeral service was held on July 18th, 2017 at Holy Ghost Church, 250 Coldwater Rd., Gates, NY, 14624, followed immediately by a reception at Nellis Hall, and interment at Holy Angels Cemetery, Scottsville, NY. In lieu of flowers, the family requests donations be made to the Navy and Marine Relief Society, 875 Randolph St., Suite 225, Arlington, Virginia 22203. To share a memory or leave a condolence, please visit: www.alhartfuneralhome.com
Published in Rochester Democrat And Chronicle from July 16 to July 17, 2017
Peter is a current member of NWSA. No information on past duty stations.
Submitted by AGC Bob Johnson, SE Chapt. 2ND V.P.
---
AG1 George C. Moritz, USN REL
February 29, 1924 to May 22, 2017
The Rev. George Charles Moritz, 93, went home to be with the Lord on May 22, 2017, at Savannah Hospice in Savannah with most of his family in attendance.
He was born Feb. 29, 1924, in Jersey City, NJ, the son of Emil and Lucie Moritz.
He is survived by his wife of 66 years, Dorothy; three daughters, Joy Moritz D.O., Deborah Dunn (Leonard) and Faith Harvey (Robert); and seven grandchildren.
He has outlived most of his other relatives.
He graduated from the public schools in Linden, NJ. He was in the U.S. Navy from 1942 to 1948, serving on aircraft carriers as an aerographer (meteorologist). During the war years, their primary function was as the base for submarine patrols and as a mid-Atlantic weather station.
He graduated from Bob Jones University (1952) and Seminary (1954) with undergraduate and graduate degrees in Bible, theology and history, and especially enjoyed his studies in Hebrew and Greek, which he continued until shortly before his home going.
In addition to being the pastor of a Baptist mission church, he also worked as a residential designer (residential architecture), designing many of the custom homes, as well as model tract homes, that helped Clearwater, FL, grow so fast and so big. He was a founding member of Florida Residential Designers Association, which eventually became part of the American Institute of Building Design, and was active until his retirement.
He lived in Clearwater from 1957 to 2015, and then in Hinesville for the past two years.
This past December he was very honored to be recognized by the Combat Veterans Motorcycle Association with an American flag and a 20 foot flagpole in his front yard. He was very patriotic, and that flag and pole meant a lot to him. (See coastalcourier.com/multimedia/3971)
A memorial service has been held.
Submitted by Dr. Joy Moritz, his daughter
---
AGC Anthony W. "Tony" Ortolano, USN RET
Passed June 25, 2017 at Age 80
Anthony William Ortolano, age 80, was a resident of Mississippi at the time of his passing.
---
CDR William C. "Chuck" Kincannon, USN RET
January 27, 1923 to July 1, 2017
Ret. Cdr. William Charles "Chuck" Kincannon died peacefully on July 1, 2017. He was born in Stephen's County, Oklahoma to tenant farmers. Chuck worked his way through college, graduating from the University of Central Oklahoma with a B.S. in Education. He was commissioned as an officer in the Navy at Notre Dame in 1943, studied meteorology at Cal Tech, and served as a Naval meteorologist for his military career. During WW II, he served in the Marshall Islands on Majuro.
After retirement from active duty in 1964, he returned to Oklahoma to work on a post-graduate degree in meteorology and to teach school. Within two years, he was called back to Washington, D.C. to work as a civilian for the Department of Defense on a program that developed the first weather satellites for the United States. Toward the end of his career, he dealt mostly with satellite weather missions and space weather observations, retiring for the second time in 1988.
Married in 1946 to his one true love, Murice Jean Miniard of Olathe, Kansas; they began a 70-year love affair. One of the legacies Chuck leaves is reflected in the lives of his son, Rev. Dr. Keary Kincannon, pastor of Rising Hope UMC and wife, Judy Borsher; daughter, Rev. Dr. Karla Kincannon, pastor of Aldersgate UMC, and husband, Rev. Dr. Jim Noseworthy; and son, Kirk Kincannon, Executive Director of the Fairfax County Park Authority and wife, Denise Kincannon. He is survived by his wife, children, ten grandchildren, six great-grandchildren, a sister, and several nieces and nephews.
Chuck loved his family, faith, friends, fishing, food and poker. A 50-year member of Aldersgate UMC, he served as a youth counselor for six years, and on various church committees, including an early committee to organize the Aldersgate Church Community Theatre.
He was a member of the Naval Weather Service Association and past member of American Meteorological Society.
The family will receive friends and guests at Demaine's Funeral Home, 502 S. Washington Street, Alexandria, on Friday, July 7 from 6:00-8:00p.m. The memorial service will be held at Aldersgate United Methodist Church, 1301 Collingwood Road, Alexandria, on Saturday, July 8 at 11:00 a.m. In lieu of flowers, donations may be made to Rising Hope United Methodist Mission Church and Aldersgate United Methodist Church in Alexandria.
Submitted by Jim Romano, POTCHAP Sec.
---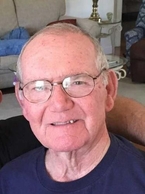 xAG Edward R. Fish, USN REL
March 7, 1938 to June 6, 2017
Edward Robert Fish, 79, of Ocala, Fla., formerly of Barre, died surrounded by his family on June 6, 2017, from congestive heart failure. Ed suffered a stroke in the spring of 2016 and had been in an incremental decline since that time.
Ed was born March 7, 1938, in Rutland and grew up in Poultney. He joined the U.S. Navy in 1957, where he served as a weatherman in Tennessee, Miami, and London through 1961. He met Beryl Sykes on a blind date and married her six months later. Ed and Beryl celebrated their 56th wedding anniversary on May 27, 2017. They resided on Trow Hill in Barre Town for most of Ed's career years through April 1999; relocating after his retirement to Southern California for a time and then finally to Ocala, Florida.
After leaving the Navy, Ed was hired by the Vermont State Police in 1962 and attained the rank of captain before retiring in 1988. Ed had many prominent moments in his career: In 1973, he was selected to attend the Northwestern University Traffic Institute, and to date is the only person who attended this prestigious program from the department. In the mid-1970s, he led the Interstate Patrol enforcing the 55 mph speed limit; he went on to hold positions as station commander, troop commander and training officer for the department. Known for his honesty and integrity, Ed was an investigator in the 1979 "Router Bit Affair" in St. Johnsbury, which led to then-Gov. Richard Snelling requesting VSP Commissioner Francis Lynch's resignation.
Upon retiring from the VSP in 1988, Ed was hired by the City of Barre as the chief of police in 1989 where he served through 1998. Ed was a progressive leader who transformed the police department into a contemporary unit through his straightforward leadership style and the use of drug forfeiture money to greatly enhance the police departments equipment.
Ed was a proud member of the Masonic lodge and a lifetime member of the National Rifle Association and believed strongly in the Second Amendment to the Constitution. He also loved the outdoors; hunting, fishing, trapping, chopping wood and mowing the lawn all made him happy; the Vermont winters never slowed him down. Ed received his bachelor's degree from Goddard State College and a master's degree from Johnson State College.
Edward is survived by wife, Beryl; son, David; daughter, Alison and her husband, Scott; six grandchildren and two great-grandsons. Ed will be cremated and no funeral service is scheduled. He lived a robust life and will be greatly missed.
Submitted by CDR Chuck White, USN RET
Roberta A. "Bobbie" Losch
Passed January 18, 2017 at Age 88
Wife of AGC Henry Losch, USN RET
Roberta A. Losch, 88, of Pine Lake Park, Manchester Twp. Toms River New Jersey passed away January 18, 2017 at home.

Born and raised in Alaska, she moved to Manchester Twp. in 1966. Roberta was a member of the Ladies Auxiliary Fleet Reserve Branch 124, Lakehurst.

Roberta is survived by her husband of 57 years, Henry, 5 daughters, Romona Ford of Whiting, Deborah Dodd of Manchester Twp., Ronni Hackett of Frisco, TX., Dorothy Copeland of Oregon City, OR., Carol Langford of Hidden Valley Lake, CA., 1 son, Arne Olsen of Whidbey Island, WA., 2 brothers, Raymond Carroll of Tucson, AZ., David Carroll of Chickaloon, AK., 4 grandchildren, Ryan, Matthew, Jesse and Kaitlyn.

Memorial was held Tuesday January 24, 2017 at DeGraff Lakehurst Funeral Home, 119 Union Ave., Lakehurst.
Published in Asbury Park Press on Jan. 20, 2017
Submitted by Pam Elliot, Airship Chapt.
AGC Gale E. Capley, USN RET
August 25, 1940 to June 18, 2017
Gale Eberly Capley peacefully passed on to his eternal life on June 18, 2017 in the loving care of his wife and family after a courageous battle with cancer. He displayed strength and maintained a positive outlook throughout this battle. Gale was born in Fountain City, Tennessee, a suburb of Knoxville, on August 25, 1940.

He spent his early years in Tennessee and has many fond memories of spending time with his Uncle at the sawmill and searching for arrowheads along the banks of the creek on the property. In his early teenage years, his family moved to Tampa, Florida. During his time at school he participated in many sports including basketball and football.

At seventeen years old he enlisted in the United States Navy as a meteorologist. Upon returning home from basic training he married his high school sweetheart Susan Hancock in December 1958. During his initial four-year tour with the Navy he served on the aircraft carrier, USS Lake Champlain.

After serving his initial tour he decided to pursue business interests outside of the Navy, eventually deciding to pursue their lifelong dream of buying a farm and raising horses in Tennessee. During this time, through his persistence, he obtained a job working in a zinc mine to provide for his family. He greatly enjoyed his time in the mine and often spoke of the adventure and challenges of the work along with the men that he worked with and was elected as the representative for the zinc mineworkers' union. After the tragic death of Susan's father, they returned home to Tampa to assist and care for her mother.
Based on these events, the decision was made to sell the property in Tennessee and relocate to Tampa to be closer to family, and Gale reenlisted in the Navy where he served an additional twenty years including multiple deployments on the aircraft carrier, USS Intrepid, during the Vietnam War. He also had two separate tours to Diego Garcia in the Indian Ocean. Over this time, Gale and the family spent time in various locations including Rhode Island, Virginia, New Jersey and Spain, eventually settling in Orange Park, Florida where he retired from the Navy in 1985.

After his retirement, he started a successful home renovation business, Capley and Son, Inc., which he ran for several years. After his time in the business he worked at St. Paul's Catholic Church and School in Riverside and greatly enjoyed volunteering in many charitable organizations throughout Jacksonville and continued until he was no longer able to do so.
Susan became ill, and after forty-eight years of marriage and a long battle with cancer she passed away on March 15, 2007 under the loving care of Gale. In October of 2010, he married Debra Rozensky and enjoyed the last years of his life traveling, working on projects together, and spending time with family.
In Gale's immediate family, he was predeceased by his mother and father, Jessie and Elmer Capley, his brothers Sonny and Michael, his wife Susan, daughter-in-law Teresa, and oldest grandson Brandon. He is survived by sons Clifford and Timothy, daughter Gayla and grandchildren Emily, Ashley and Grant, his wife Debra, children Talia, Gena, Kyla, Ivanna and Joseph, and grandchildren Maggie, Eddie, Xavier, Xander, Ellie, Owen and Aria. All were the love of his life.
The funeral mass was celebrated at St. Paul's Catholic Church, Riverside, 2609 Park St., Jacksonville FL 32204, on Thursday, June 22, 2017. The interment was at the Hancock Family Cemetery in Fort Meade, Florida on Saturday, June 24, 2017. In lieu of flowers, the family suggests donations be made in memory of Gale to St. Paul's Catholic Church, Riverside (904) 387-2554 or to Community Hospice of Northeast Florida, 5450 Ramona Blvd., Jacksonville FL 32205.

Submitted by AGC BOB JOHNSON, NWSA SE CHAPTER 2ND VP

AGC Ronald A. Alford, USN RET
Passed June 11, 2017 at Age 74
Va Beach - Ronald Alvin Alford, 74, passed away on June 11, 2017.Born in Joliet, IL, he was the son of the late Myron and Alfreda Alford and the husband to the late Kathleen Alford. He was a retired Chief Petty Officer from the U. S. Navy and a veteran of Vietnam.
Left to cherish his memory: two sons, Adam Alford of Virginia Beach and Allen Alford of West Virginia; three granddaughters, Amanda, Amber, and Autumn Alford; two sisters, Susan and Nannette; and two brothers, Dennis and Richard.
The funeral was held on Saturday, June 17, 2017, in the funeral home chapel. Interment followed in Chesapeake Memorial Gardens. Condolences may be offered to the family at www.hollomon-brown.com.